Registration      Booth Requirements       Driving Directions
REGISTRATION
Register online for a booth (or use this paper form) by May 31.
All equipment and displays, including tables and chairs, must be provided by the participants.
Booths are limited to a 10 X 10 foot space. Electricity is not available.
You will receive a ticket online upon completion of this registration. The ticket must presented on the day of the fair as proof of pre-registration. Vendor locations will be assigned based on the order their registration applications are received. If a vendor does not have a confirmation letter or ticket, and they wish to participate, they may register and pay that day, but their booth location will be assigned based on remaining available space.
Booth assignments will be posted on the window of the Newton Highlands Post Office and the window of Marcia and Bea's at 9:00 AM the day of the event.
Booth set-up begins at 9:00 AM and must be completed by 11:00am. Part of Lincoln St. will be closed to traffic and parking; you may enter to unload only. Please note that runners participating in the 5K Road Race will be running through the booths towards the finish line from 10:15 – 11:00am. No vehicles will be allowed to unload during that time.
There is no rain-date. In case of bad weather, local village merchants plus the first 30 paid non-food registrants will be allowed to set up in the Hyde Community Center on Lincoln St.
All food vendors must obtain an itinerant permit from the Newton Health Department. Contact the Newton Health Department at 617-796-1420.
No refunds.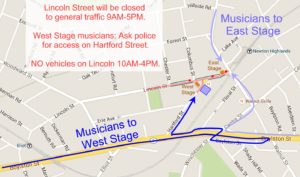 Lincoln Street will be closed to general traffic, 9AM-5PM.  No vehicles will be allowed on Lincoln Street 10AM-4PM.
Vendors and musicians may access Lincoln Street before 10AM and after 4PM, with police permission via three points (click the map for detailed view):
From east:  Light blue route on map to corner of Lincoln and Walnut Streets (GPS:  1169 Walnut Street, Newton Highlands)
From west:  To corner of Lincoln and Bowdoin
From Rte. 9:  Dark blue route on map to Hartford Street
Note:  If you are arriving via Rte. 9 Eastbound to Hartford Street, then you'll need to do a U-turn to reach Hartford Street:
From Rte. 9 Eastbound, go through the light at Elliot/Woodward (Sunoco Station), past Dunkin Donuts.
Just over the bridge, exit right and on the ramp take a hard-right hairpin turn.
Turn right onto Centre Street and go under the bridge.
Immediately after the bridge, take a left onto the entrance ramp for Rte. 9 Westbound.
Immediately after merging onto Rte. 9 Westbound, take a right onto Hartford Street.