Register     T-Shirts    Course     Safety     Awards     Number Pickup     Parking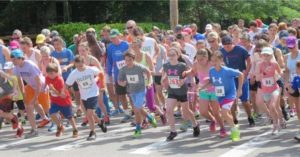 The Newton Highlands Village Day 5K — sponsored by Whole Foods — is a fun, community event where families and neighbors can run together.
Register online here — $30 for adults, $15 for ages 18 and younger.  Onsite registration will start at 8AM in front of the Hyde Center.
Volunteers are also needed! Sign up here to volunteer for the 5K/Family Fun Road Race.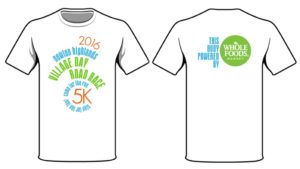 T-Shirts:  All runners registered by Monday, May 28 are guaranteed a tech (thinner, athletic weight) race T-shirt. Any remaining T-shirts will be distributed on a first-registered/first-served basis.  We cannot guarantee T-shirts for those registering the day of the event.
The Course:   The race is a local, open course.  (Click the map for a larger view.) Start on Lincoln St.  Continue on Woodward Street and some side streets, then Beacon St.  Turn right onto Walnut St. and then right again on Lincoln to the finish.  Please note: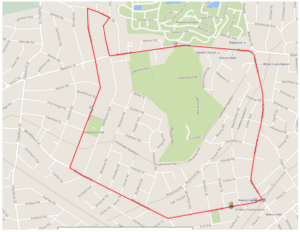 Streets are not blocked off for the event.
One water stop at Cold Spring Park on Beacon St.
Safety is our top priority. Signs on main streets will let drivers know that a road race is going on.   We need your help in keeping you safe.
Runners will be running on the side of the street, in the bike lane, and on the sidewalks. Please use your best judgment on where is a safe place to run for you — and your children if they are running with you.
Race monitors and auxiliary police will be on the course. Please alert any of them if you need assistance.
You will cross Beacon Street twice. Auxiliary police will be there to help runners cross at both crossings. Please work with them to cross safely.
The race finishes in the Highlands downtown where vendors will be actively finishing their set-up for Village Day. (You may see trucks, hand carts, plastic bins). There will be cones marking a path down the middle of the street leading to the finish. Please stay within the coned-off area.
Timing & Awards:  Runners' times will be posted online after the event. Awards will be handed out immediately following the race for the top three finishers for both males and females in the following categories:  Adult, High school, Middle school, and Elementary school.
Registration and Number Pick-up:  Online registration is preferred.  In-person registration will be available 8:00 – 9:30AM on the day of the race.  Register by 9:30AM to guarantee a spot.  Pick-up your number on Sunday morning before 9:45AM.
Please park on local side streets around the Highlands:  Bowdoin, Chester, Columbus, Hillside, Forest, Mountfort, Erie, and Hartford Streets.
Please pay attention to street signs because in many cases parking may be allowed only on one side of the street.
Parking is also available on the south side of Lincoln Street (closest to Route 9).
Runners will be running on the north side of Lincoln Street at the start, so we discourage parking there until after the race.
The course is conveniently accessible to the T Newton Highlands stop. Just exit toward Walnut Street and walk two blocks down Lincoln St. to check in.