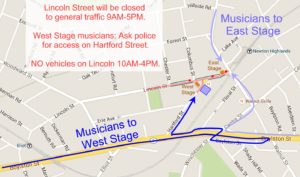 Lincoln Street will be closed to general traffic, 9AM-5PM.  No vehicles will be allowed on Lincoln Street after 10AM.  Click the map for a detailed view.
See the schedule for times.  There will be two stages:  East Stage and West Stage:
East Stage (Jazz): Tal Shalom-Kobi Ensemble, Johnny Horner Trio and Jam Session, and Jazz Barracudas
Bring your equipment to the corner of Lincoln and Walnut Streets (GPS:  1169 Walnut Street, Newton Highlands).  Route is in light blue on the map.
West Stage (Youth, Pop/Rock): David Polansky, Tema Siegel, Highland Conservatory, Stardust
Bring your equipment up Hartford Street, accessible from Rte. 9 Westbound.  Police will let you through.  Route is in dark blue on the map.
Note:  If you are arriving via Rte. 9 Eastbound, then you'll need to do a U-turn to reach Hartford Street:
From Rte. 9 Eastbound, go through the light at Elliot/Woodward (Sunoco Station), past Dunkin Donuts.
Just over the bridge, exit right and on the ramp take a hard-right hairpin turn.
Turn right onto Centre Street and go under the bridge.
Immediately after the bridge, take a left onto the entrance ramp for Rte. 9 Westbound.
Immediately after merging onto Rte. 9 Westbound, take a right onto Hartford Street.