Events and Activities     Music     Food    Arts & Crafts Vendors     Parking     Map
Events and Activities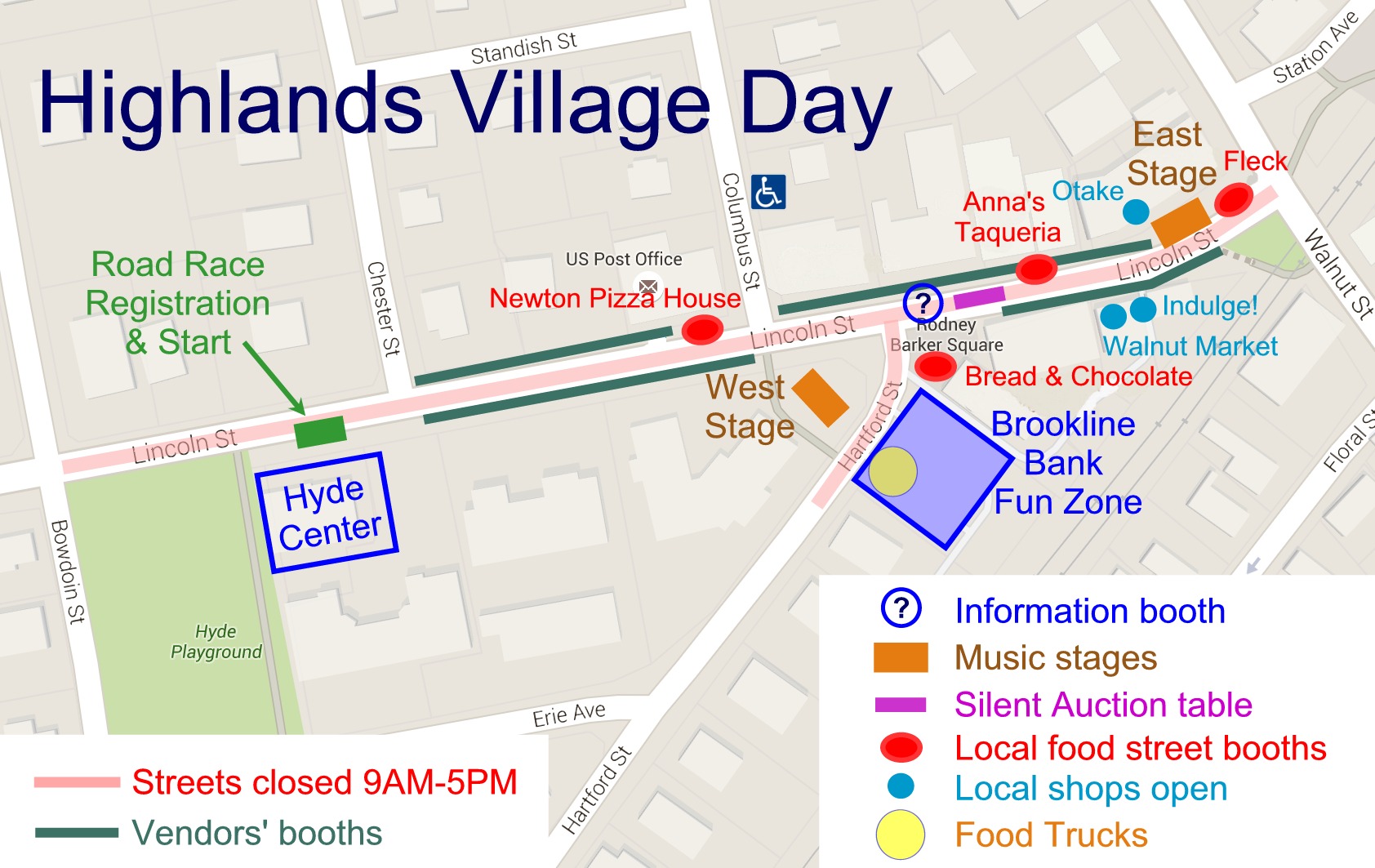 5K Road Race & Family Fun Run, 10AM-11AM
Bouncy Houses (free)
Face Painting (free)
Caricature Drawing (free) 11:00-3:00 
Magicians — 11:00-2:30 near Walnut Market
New Art Center activities
Children's soccer coaching (ages 1-12), on the grass near NH Congregational Church
Touch-a-Truck, near Hyde Center
Music
East Stage (JAZZ)
(in front of Stacks Espresso Bar)
West Stage (YOUTH & POP)
(in front of Congregational Church)

11:00-12:30 Tal Shalom-Kobi Ensemble 
Educator Tal Shalom-Kobi has been running a successful music school in Newton for two decades. She brings her ensemble back to Village Day for their 15th year, this group always features amazingly talented youth performing a wide variety of styles.
12:30-2:00 Johnny Horner Trio and Jam Session
Veteran pianist Horner brings his trio to Village Day to perform selections from the modern jazz songbook.
2:00-4:00 Jazz Barracudas
You never know what to expect from this quartet of talents whose members have performed with everyone from Dizzy Gillespie to Aretha Franklin, and major festivals and venues across the country, but their music always grooves!

11:00-12:00 David Polansky
David Polansky is requently humorous, sometimes serious, and always clever and engaging. Loved by everyone from preschoolers to grandparents, his songs have been compared to those of Stephen Sondheim and Tom Lehrer and have won numerous awards including the coveted Artists' Foundation Fellowship, Music City Song Festival, and Sheet Music Magazine Grand Prize.
12:00-1:30 Tema Siegel
Rising star Tema Siegel is gaining widespread attention for her talents as a singer/songwriter, saxophonist, and jazz vocalist. She attends the Chicago College of Performing Arts.
1:30-2:00 Highland Conservatory
Highlands own music school presents young talent performing a variety of musics.
2:00-4:00 Stardust
Five powerhouse vocalists and five super talented instrumentalists combine into what is often referred to as THE BAND. Stardust is one of New England's most successful and sought after commercial groups.
Food
These local restaurants will have food available in outdoor street booths:
The Grape Leaf
O'Hara's Food & Spirits
Otake
The Eatery
Newton Pizza House
Anna's Taqueria
A Bon Me food truck will be in the parking lot by the Brookline Bank Fun Zone, with tables and chairs.
Arts & Crafts Vendors
Parking and Public Transportation
Please park on local side streets around the Highlands:  Bowdoin, Chester, Columbus, Hillside, Forest, Mountfort, Erie, and Hartford Streets.
Please pay attention to street signs because in many cases parking may be allowed only on one side of the street.
Parking is also available on the south side of Lincoln Street (closest to Route 9).
Runners will be running on the north side of Lincoln Street around 10AM, so we discourage parking there until after 11AM.
Highlands Village Day is conveniently accessible to the MBTA Newton Highlands stop on the Riverside ("D") branch of the Green Line. Exit toward Walnut Street and walk two blocks down Lincoln Street.
MBTA bus #59 stops at the corner of Walnut and Lincoln Streets, at the east end of the festival.